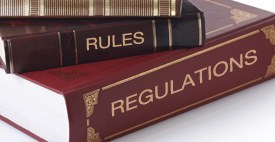 Are you concerned with the growth of government and the never ending stream of new fees and regulations controlling your work and personal life? If so, I encourage you to continue reading to learn what you can actually do about it. Here is an important overlooked method you the Idaho citizen can be involved in to curtail government growth!
What are Idaho Administrative Rules and why should I care?
Administrative Rules are rules (or Idaho Code) written by bureaucrats and government agencies (Executive Departments) throughout the year that will be presented, reviewed and approved by the Idaho Legislature at the beginning of every session. Once approved, these Administrative Rules will have the full force of law. Administrative Rules are a big part of how state bureaucracies govern themselves and citizens. Last January 1508 pages of Administrative Rules were approved in about 3 weeks! Do you know what they were and how they will affect you?
Here's the good news: the Administrative Rule development process allows for public input.
Many times in committee hearings on the Rules, the agencies presenting the changes are asked if there had been any public comments received on the proposed changes. Most of the time the answer was "No, no citizen comments were received", or "There were no requests for a hearing on this matter." I am hoping this year that answer will change. I am concerned that the majority of Idaho citizens are not aware of, or do not understand the Rule process, and as a result, they do not provide any input towards developing or modifying Rule language. I myself was also uninformed until fairly recently.
This year I want you the citizen to be informed. I can't stress enough that I believe this is one of your best approaches for changing the current situation in Idaho government.
What do you have to do?
You need to know where the rules are located so you can review the proposed changes or proposed new rules. Here is the link: adminrules.idaho.gov/bulletin

The rules are released the first Wednesday of each month in a bulletin format.
The rules become more numerous from September thru November in order to meet a deadline. This is a time when many rules get overlooked due to the sheer number.

Review the table of contents (which usually starts on page 2) and determine via categories if any proposed rules may affect areas of your life. You might also want to alert any family members or friends if you see a rule that might affect them in their professional or personal life. Remember, you can choose to let government agencies or bureaucrats control more and more aspects of your life or you can take charge and get involved in your governance.

The first 15-18 pages are the same in all the bulletins and describe all the information on how the rule process works.
Some rules allow for public input, others do not.

Go to the page of the rule that interest you. (Don't worry, you will likely find something in the hundreds of pages that will affect you.) Once you have read the new rule or rule change, you have several options:

If you like the new rule or fee, do nothing.
If you do not like the rule, you can send in a comment or pick up the phone and call the agency to discuss.
Another option is to attend a public hearing on the proposed change. Many rules will have the times and locations of public hearings listed. If you do not see a location close to your home to attend, you can petition the agency to visit your town or county for a public hearing.
Your legislators are not experts on every issue. They need the assistance of citizens who have experience in each category, to review these rules and provide input. Otherwise, they will be forced to rely primarily on legislative advisors (lobbyist) to provide answers to proposed rule questions.
Please get involved! Voting every 2-4 years for a candidate is not enough!
Standing for freedom,
Heather Scott